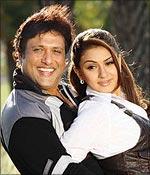 After an offbeat debut in Swami, choreographer-turned-director Ganesh Acharya has tried his hand at comedy. And his new film, Money Hai Toh Honey Hai, starring Govinda [Images] and a host of actors, sure is funny in parts. Money hai is a timepass film. It doesn't boast of any path breaking script or performances, but is regular David Dhawan style zero logic cinema.

Cast: Govinda, Manoj Bajpai, Celina, Hansika, Aftab, Upen, Prem Chopra, Esha Deol, etc
Money Hai is a story of six losers, Bobby (Govinda), Lalbhai (Manoj Bajpai [Images]), Gaurav (Aftab Shivdasani [Images]), Shruti (Celina Jaitley [Images]), Manik (Upen Patel [Images]) and Ashima Kapoor (Hansika Motwani [Images]). All of them are very ambitious. Bobby wants to make money without working, Lalbhai wants to be a good businessman but always loses money, Gaurav wants to open is own advertisement agency, Shruti wants to open her own boutique, Manik wants to be a supermodel and Ashima wants to become a television star and then enter Bollywood.
The six get a call from dying man called Jaiswal (Prem Chopra), who nominates all of them to his wealth. Unfortunately, the six soon realise that the company is in huge debt, and it is up to them to bail the company out. Whether they manage to pull it off or not forms the rest of the story.
Money Hai is not all about comedy, as you might expect from a Govinda starrer. It has a heavy dose of drama in the second half, which is a tad boring.
But the film has its moments, like the ones when Mukti Kapoor (Rakhee Tandon), who spoofs Ekta Kapoor makes her entry. Also, every time Manoj Bajpai loses his money.
The film should have been edited better. The director takes his own time to introduce each character, parts of which should have been cut down. The story finally starts only in the second half.