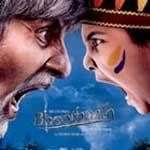 Directorial debut for Vivek Sharma. Making a movie based on uncommon tale of bonding between a spirit and a child and that too with top notch stars includes names of Amitach Bachchan and Shahrukh Khan, both are the icons of Indian Cinema, is no less than a courage.
Cast: Amitabh Bachchan, Juhi Chawla, Shahrukh Khan
The film's leading lad is a natural enough young fellow called Aman Siddiqui, who plays local mischief-maker Banku. Shah Rukh Khan and Juhi Chawla play his parents, who have just rented a Goa bungalow, and while Daddy dear works on a cruise liner, Mommy has her hands full force-feeding Banku breakfast and unpacking the furniture on her own because no bai would venture close to the place: it's haunted, you see.
After many sets of lips wag about these haunted rumours of Nath Villa, Banku confronts his mother with The Ghost Question. There are no ghosts, she says, before filling his head with some good-natured malarkey about angels. Sure enough, Banku comes face to face with a ghost and stoically refuses to accept it. (Between rationale and what ma says, the latter wins, every time).
The rest of the film is predictably about this kid and the dynamic he develops with this ghost, with this angel who needs a manicure. And while there is absolutely nothing you haven't seen before in innumerable films like Blackbeard's Ghost — and a gag involving school principal Satish Shah is even borrowed from Bruce Almighty — both Grizzled Old Ghost and Easily-Angered Young Man play their parts with warmth and gusto and, in Bachchan's case, even grace.